No results were found for the filter!
Gravel bike clothing for all your adventures
Two wheels spell freedom… especially when you're out on a gravel bike. These bikes simply can do just about anything. But can your cycling clothing keep up? The longer your bike tours last, the more comfortable you will be wearing a "real" gravel outfit. Especially on long bikepacking tours, specific gravel biking pants and shirts are much more comfortable and functional, simply because they're designed specifically for gravel bikers. Here at Platzangst, you've come to the right place if you're looking for cycling apparel that's perfect for gravel biking and bikepacking!
MEET THE GRAVELIERS - Gravel bike clothing at its best
Top-speed on smooth tarmac, balancing your bike over loose surfaces, the way to work through the city, uphill and downhill ... Gravel bikes are built to be fun in every situation. Most of all, bikepacking is a "thing" at the moment. The trend means multi-day cycling trips, including a tent and a sleeping bag. We have designed many pieces of our gravel clothes collection exactly for this style of cycling and adapted them carefully to the requirements of your multi-day adventure.

Why? That's easy! We've become addicted to the feeling of freedom on a gravel bike a while ago! Quick miles on asphalt, freedom on dusty gravel tracks and lots of adventures on flowy trails had stirred a new passion apart from our love for mountain biking. MTB-freaks turned into Graveliers. It quickly became clear that there was a lot of catching up to do when it came to designing clothing for this new, exciting bike discipline. Neither casual mountain bike twill nor skin-tight road bike lycra fit this type of cycling - a very special gravel bike outfit was overdue! In addition to our own riding experience, input from our fellow gravel and bikepacking riders provided us with numerous ideas that helped define specific requirements for a gravel bike clothing line. From the drawing board we headed over straight to the sewing machine, here you can see the results.
Athletic, yet casual and very comfortable - gravel bike clothing meets many requirements!
To sum things up: Gravel biking and bikepacking equal freedom, adventure and a lot of fun. Especially if you wear the right clothes! Of course, you can always cheat, head out without a tent and stay in a hotel. As long as you wear specific gravel clothes!
What's so special about Platzangst gravel bike clothing?
All in all, gravel clothing is sportswear, and therefore functional clothing that should perfectly support your efforts. But since you're out in public and not in the gym, of course you want to look good on your tours, too. The good news is: Function and style at the same time are absolutely possible.
How a gravel bike outfit works
Clothing for gravel bikers has to work well and feel comfortable in any riding position. That's why we keep revising our patterns, and always make sure we use the latest materials suitable for sportswear.
Some of the most important features of Platzangst gravel clothing:
Just like all other cycling clothing, gravel bike apparel needs to wick moisture away from the skin to the outside of the garment.
Once on the surface, it must dry off as quickly as possible so it can't cool you down.
Ventilation is very important too, of course - like all sportswear, gravel clothing is breathable.
The fabrics must adapt comfortably to the pedaling movements, it shouldn't pinch or chafe, that's why we use mostly elastic fabrics.
To develop perfect patterns for our gravel apparel collection, we have created a hybrid of body-hugging yet casual styles. This gives you enough freedom of movement to be active on your bike, still your gravel jersey or gravel bike pants won't flutter around your on fast descents.
Our mountain bike clothing has to be hard-wearing and durable. We couldn't help it – we have even transferred this aspect to our gravel bike clothing. Our gravel biking shorts, gravel jerseys, jackets, socks and caps are created from robust materials and will therefore accompany you on your Gravel adventures for a long time.
Like all sportswear, gravel clothing is easy to wash and dries quickly.
Of course, it won't always be sunshine and warm temperatures out there on your gravel or bikepacking adventures.. Whether you're caught in a warm summer rain or a downpour on a chilly fall day, it's important to have a waterproof top layer at hand. That's why we've developed our great gravel bike rain jackets.
Even when it's not raining, wind can be a real problem. A lightweight, windproof jacket will deal with wind chill on brisk descents.
Anyone who has spent a while in the saddle knows that plenty of pockets and handy details make a gravel outfit extra comfy. That's why our Platzangst Gravel clothing offers plenty of storage space, zippered or mesh pockets and openings to reach all jersey pockets through your rain jacket, for example.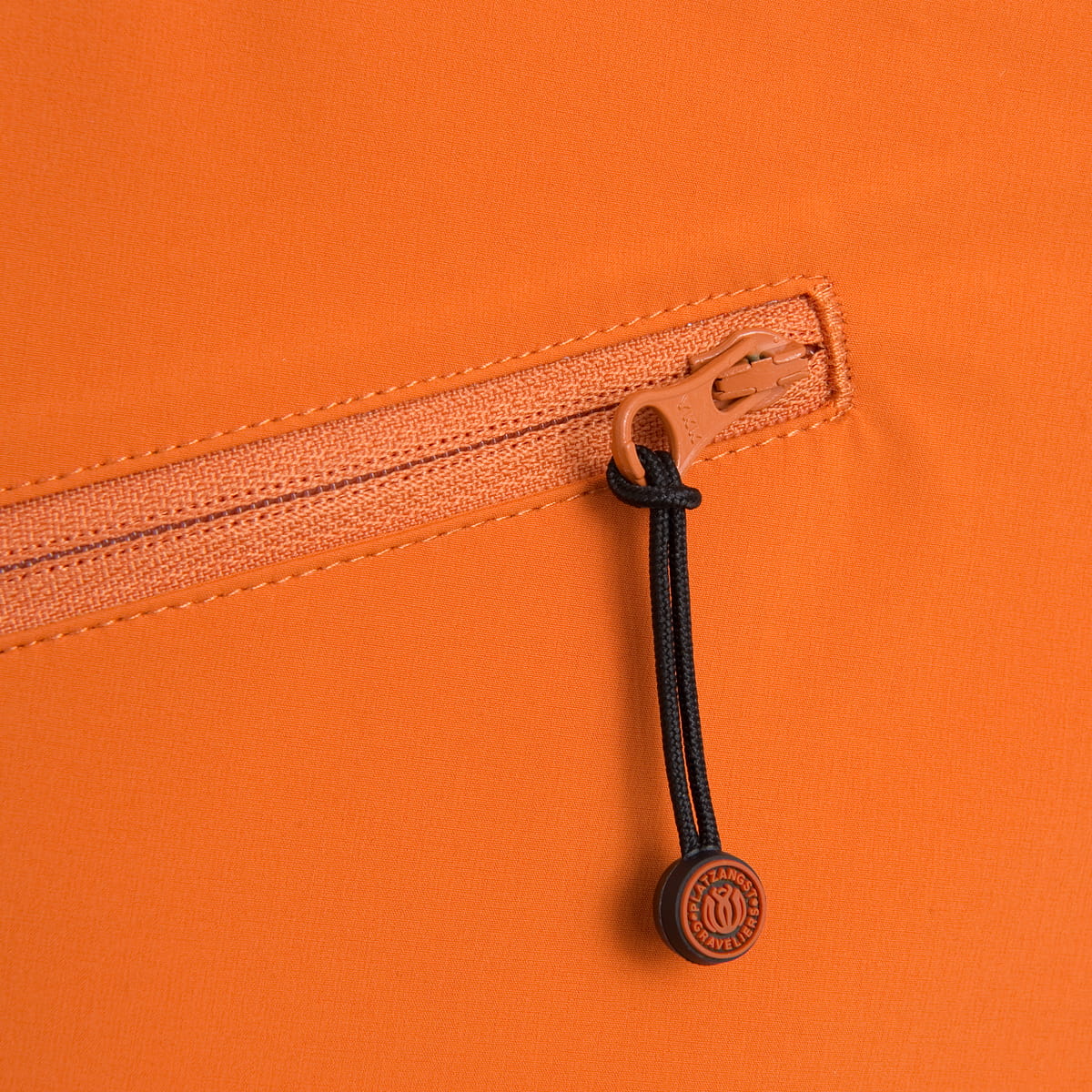 Here's one of our clever solutions: You can open the zippers of our gravel clothing even with gloves on and while riding!
Create your personal look with Platzangst gravel bike clothing
The look of gravel bikers is mostly as unique as the routes they take. When you put together your Platzangst gravel bike outfit, you can choose between a rather casual or a more athletic style and different colors. Shapes and patterns make sure you look great and feel comfortable while you're on your gravel bike, but are also meeting the dress code during sightseeing stops or lunch break. Whether you prefer your outfit tone-in-tone or with bright contrasts, whether you like a clean or a layered look - simply create an individual feel-good outfit for your next bikepacking tour.
A gravel bike outfit can be inspired by skin-tight road bike clothing, but it can also be a lot more casual.
Why gravel bike clothing, why not road bike or MTB clothing?
A gravel bike is (depending on its equipment) a cool mix of road bike, MTB and leisure bike. So why can't you just wear road or mtb clothes or even street wear? Neither is really appropriate for bikepacking and gravel touring.
The biggest mistake would be to make a longer tour in everyday clothes! Jeans can turn out to be extremely uncomfortable on a bike, and become more tormenting with every kilometer you ride. The reason for this is quite simple: "Normal" clothing is made for a person standing straight up. But on a Gravel Bike you don't stand or walk upright - you sit and pedal!
Cycling pants, on the other hand, adapt to your sitting posture. That means there is enough room around the butt for sitting and around the knees for moving your legs. Biking pants do not pinch, they also do not restrict your movements.
The seams are another important issue. Especially in the seat area they would cause chafing. Bicycle pants therefore often have no seams at all in the area where the pans meet the saddle, or the seams are particularly flat and soft, so that they do not cause friction.
Tops for cyclists also need a special cut. You have to reach for the handlebars, after all, so you need plenty of room at the shoulders and extra long sleeves. Gravel bike jackets, jerseys and shirts take that into account.
Gravel bike clothing simply uses the best features of other bike clothing and combines them to provide the perfect function for long, relaxed gravel bike tours. Gravel Bike clothing is durable and robust like mountain bike clothing, and also offers lots of room for movement and a great number of pockets and ventilation openings. Gravel clothing is highly functional in terms of fit and fabrics, making it just as suitable for long hours of steady pedaling as a road bike outfit. The look is closest to athletic casual wear, with no chafing seams, fabrics that restrict you, or too-short sleeves, of course. It's made for easy or challenging multi-day bike trips. But you can of course also set off in MTB clothing if you want your outfit to be even more casual.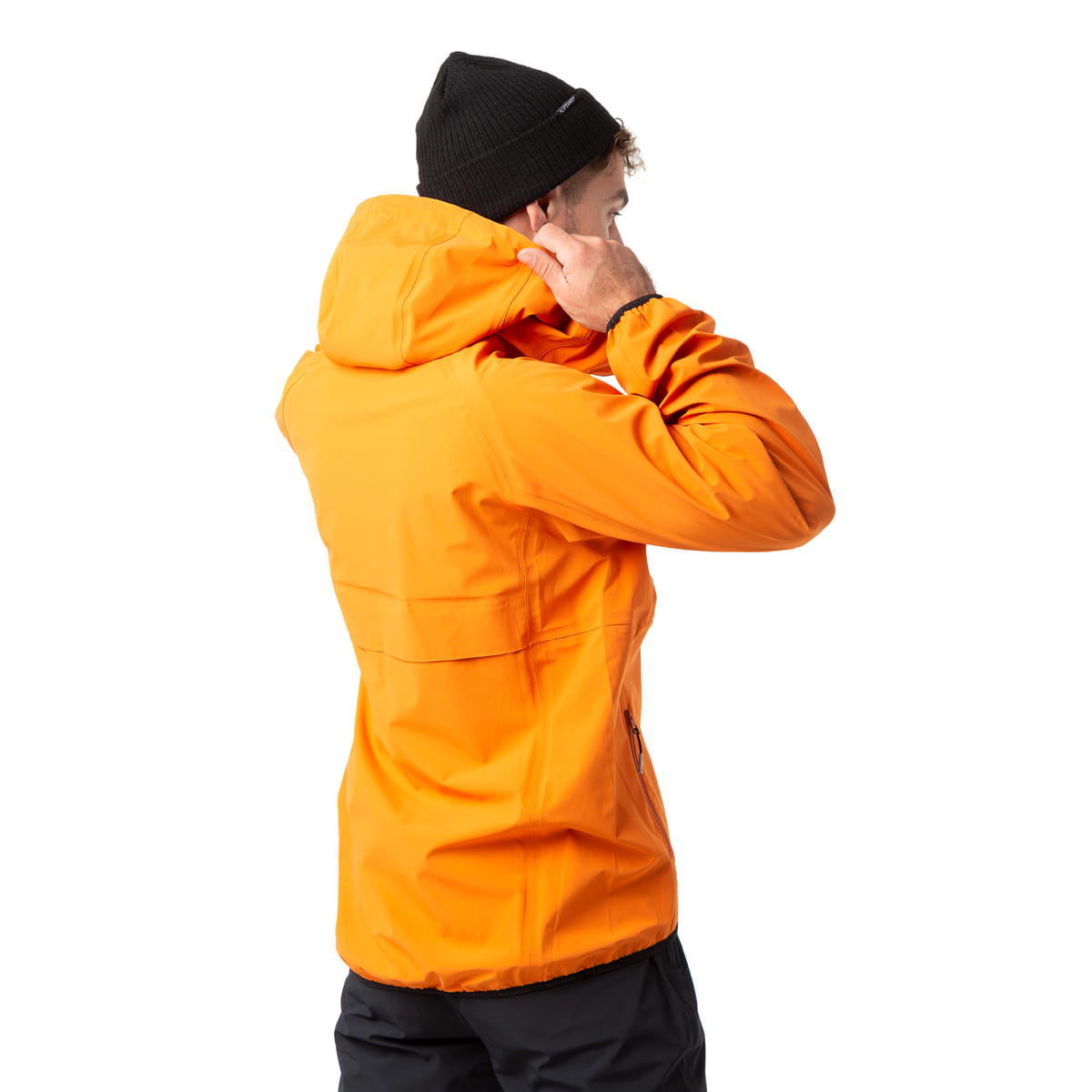 When the weather gets cloudy, gravel bike tours are much more fun if you wear a colorful jacket! And it's easier to spot you too!
Gravel clothing for the winter season and rainy days
Cold weather is always a hot topic among cyclists! There are so many out there that even cold and wet weather can't stop! And if you want to go cycling in the rain, by all means do. It just takes a little more preparation!
If you have a decent Platzangst rain jacket in your closet for your fall or winter training rounds, you're all set! It's best to wear a long-sleeved jersey as a base layer over a comfortable t-shirt.
Your off-season bikepacking luggage should include some rainproof pants, after all, you could always be surprised by bad weather on the road. Waterproof pants that can be worn over your cycling pants, however, are also a great thing to have for the winter, as they make your bike pants not only waterproof, but also windproof and much warmer. Platzangst provides gravel bike rain pants with long legs, but you can buy rain shorts too, and they're perfect for warm, rainy days!
Of course, we hope you have perfect weather for your gravel bike tours. But if that shouldn't work out, we are happy to be part of the game – at least with our gravel bike clothes for lousy weather! If you have Platzangst gravel clothing in your panniers, the weather can actually do what it wants! By the way … you don't have to buy a gravel bike if you want to wear our great cycling clothing. It works great on a touring bike or a XC mtb too!
Your gravel bike outfit in a nutshell:
If you want a rain suit, you'll find waterproof onesies with our mtb gear