No results were found for the filter!
Who knows best what good MTB clothing is all about?
To make it quite simple… at Platzangst mountain bikers make clothes for mountain bikers, and for years that has been our recipe for success! At Platzangst, no piece goes into production that we wouldn't wear on the mountain bike ourselves. That way we make sure that each of our garments meets all the technical requirements. But the look of our MTB clothing is of course just as important. Every biker has their own individual style of clothing, and we're proud to deliver the matching outfit.
But what distinguishes MTB clothing from your "normal" clothes? If you're not exactly used to wearing suit and tie in everyday life, at first glance not so much ... Mountain bikers are known for their casual street style. It's more the features you don't see that distinguish good mountain bike clothes from everyday clothes. And because you don't see them, let us explain the difference here.
The two most important characteristics of mountain bike clothing:
At Platzangst, riders will find the right MTB clothing for their favorite sport that meets both requirements - a great look and perfect function. (Now you know the most important features that distinguish good MTB clothing from so-so mountain bike clothes.) And the function splits into two further aspects. On the one hand, there's the wearing comfort. And then there's also the durability, especially when it comes to clothing and MTB that's a very important point. A whole lot of requirements! How do we manage to meet them all?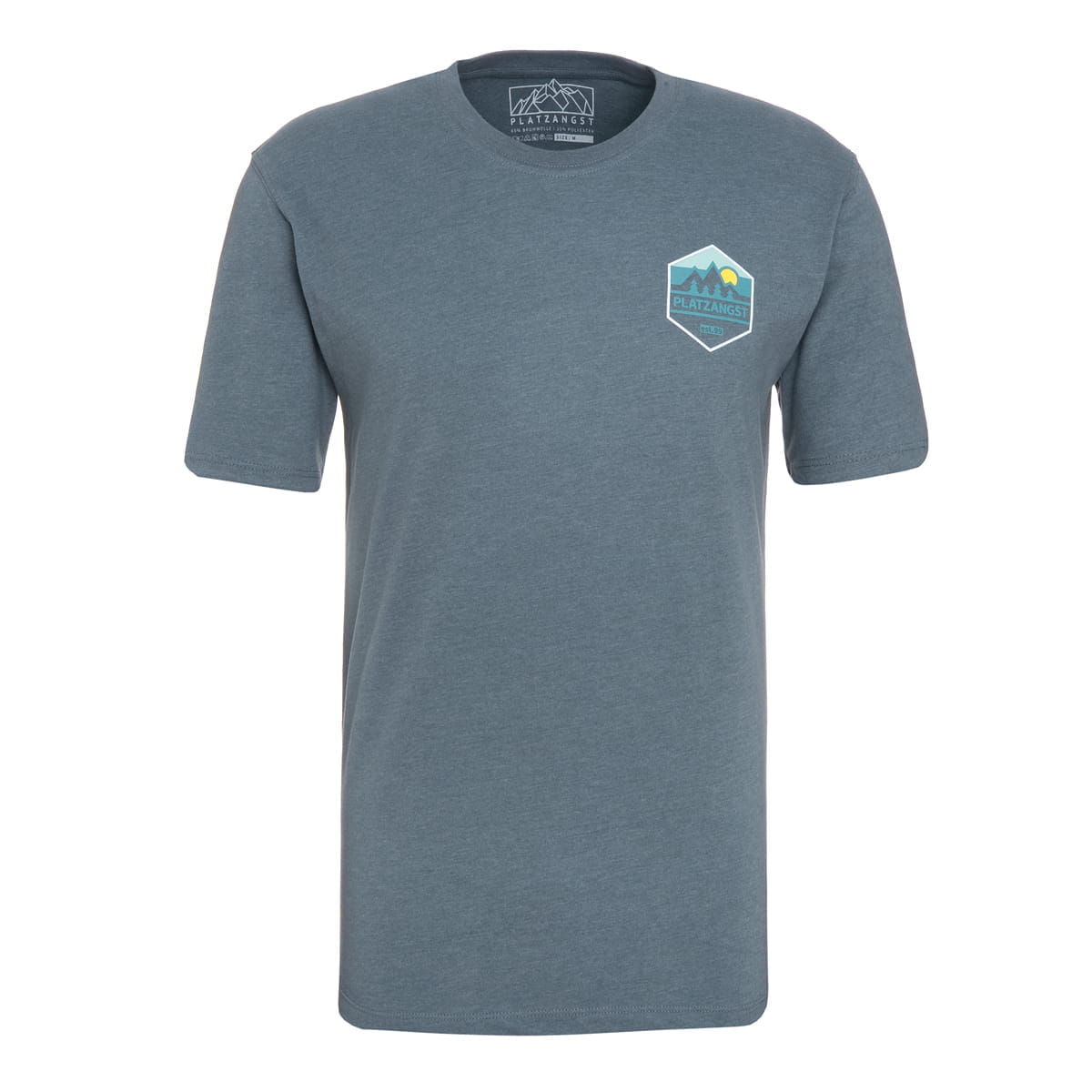 Simple but not boring; full of function but super comfy, distinctive but easy to mix-and-match – thats what good MTB clothing should be!
Which clothing for which MTB style?
Mountain biking is a very individual matter, not only in terms of look, but also every riding style is unique! To meet the different needs of each biker, we make sure that Platzangst MTB clothing that can cope with pretty much anything. You'll find lightweight and well-ventilated jerseys for your speedy XC rides. There are tear-resistant pants that survive your DH rides. We have rain jackets for everyone who likes to get a little mud on the tires and hoodies that keep you warm on the wintery trail. Enduro, AllMountain, Race or a little bit of everything? At Platzangst you will find mountain bike clothing that always fits; any weather, any tour, any MTB discipline. And above all, it fits every movement you make to master the next obstacle. Our fabrics always feel good, our cuts are always comfortable – this is the only way to create MTB clothing that doesn't get in the way of your fun.
Mountain bike clothing to match your style
First and foremost, you have to like your MTB clothing, otherwise it will quickly end up in the back of the closet, and there it will stay. The first thing about clothing that catches your eye is always the color.
What colors do you like to wear?
We want to make it easy for you to combine our MTB clothing, so we make sure that our color selection will not cause you any trouble. Just buy a few pieces that you like, and don't worry about which of our shirts and jerseys you should wear with which jacket or pants, they all match! Your combination of colors can't go wrong, that leaves you more time and head space for planning fantastic MTB tours.
The perfect Platzangst cut for mountain bikers
On one hand there's the color, but of course our mountain bike clothing also needs to be in great shape. Body-hugging and yet casual cuts characterize our MTB clothing. We plan our garments to be rather body-hugging. If you like to have a little more room, you can simply choose a larger size.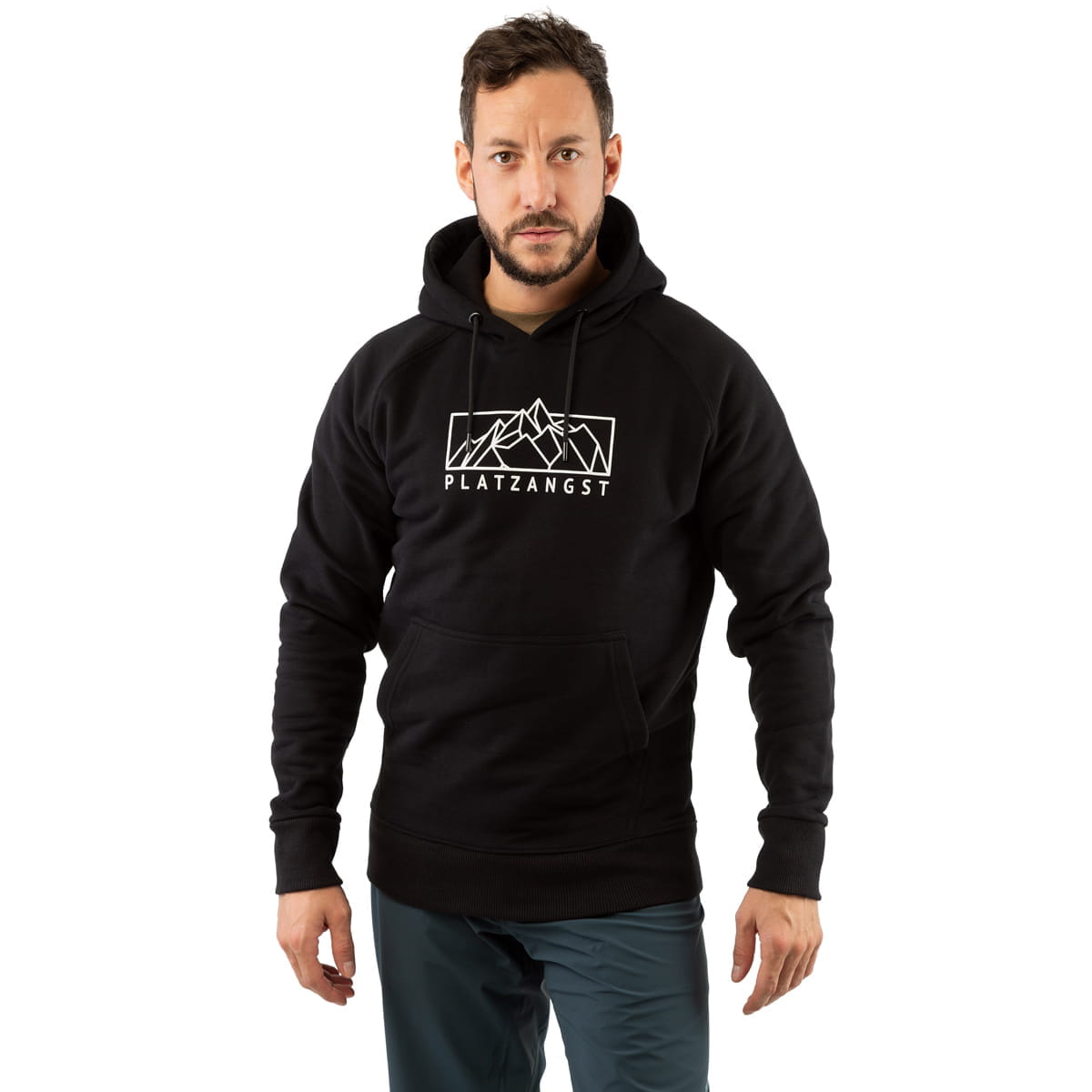 Perfect mountain bike clothes have to offer enough space to move freely, but not too much material that might flutter around you.
If you want to buy particularly comfortable MTB clothing, the pieces featuring "CF" are just what you need! CF stands for "Cross-Flex", the material is flexible in all directions so it can adapt perfectly to your movements.
Why mountain bikers wear Platzangst clothes
Of course function is not everything, mountain bike gear needs to look good too. Fitted and yet casual tailoring characterize Platzangst MTB clothing. Jackets, pants and jerseys are rather sporty and functional, while our t-shirts and hoodies work great as everyday streetwear. That way, true to our motto "WE RIDE FREE" we are not only at home in mountains and forests, we also inhabit urban skate parks and pump tracks.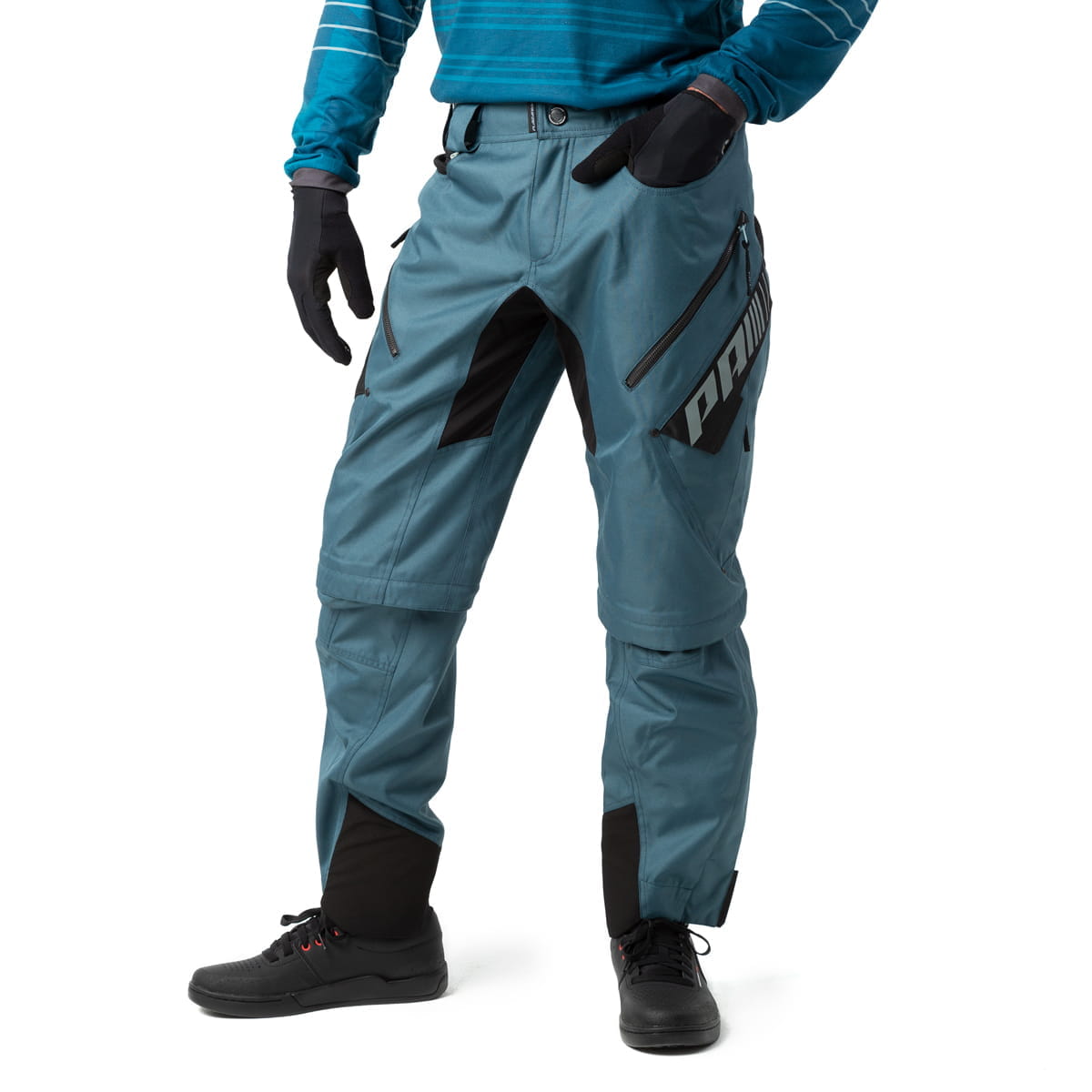 Good mountain bike gear (like our classic Bulldog Pants) is both, durable but still comfortable to wear.
The most important part of your mountain bike clothing: Platzangst pants
Long, short or waterproof - our MTB legwear is the perfect basis for a bike outfit that adapts to any weather and the seasons.
If you are looking for MTB clothing for the winter, you should shop for some of our long bike pants. They spoil you with a comfortable fit and smart details such as built-in ankle protection or water-repellent top layers.
For spring and fall, our zip-off bike pants are ideal. Long legs keep you warm on chilly days, when it gets warmer, you can just zip them off and stay cool.
In the summer, of course, mountain bike shorts are a great choice on and off the bike. Ours are lightweight and breathable, and if you like them extra comfortable, all "CF" shorts are made just for you!
If even the worst weather can't keep you away from the bike park, be sure to wear our waterproof pants or a rain suit to keep you dry.
> Discover Platzangst MTB pants and shorts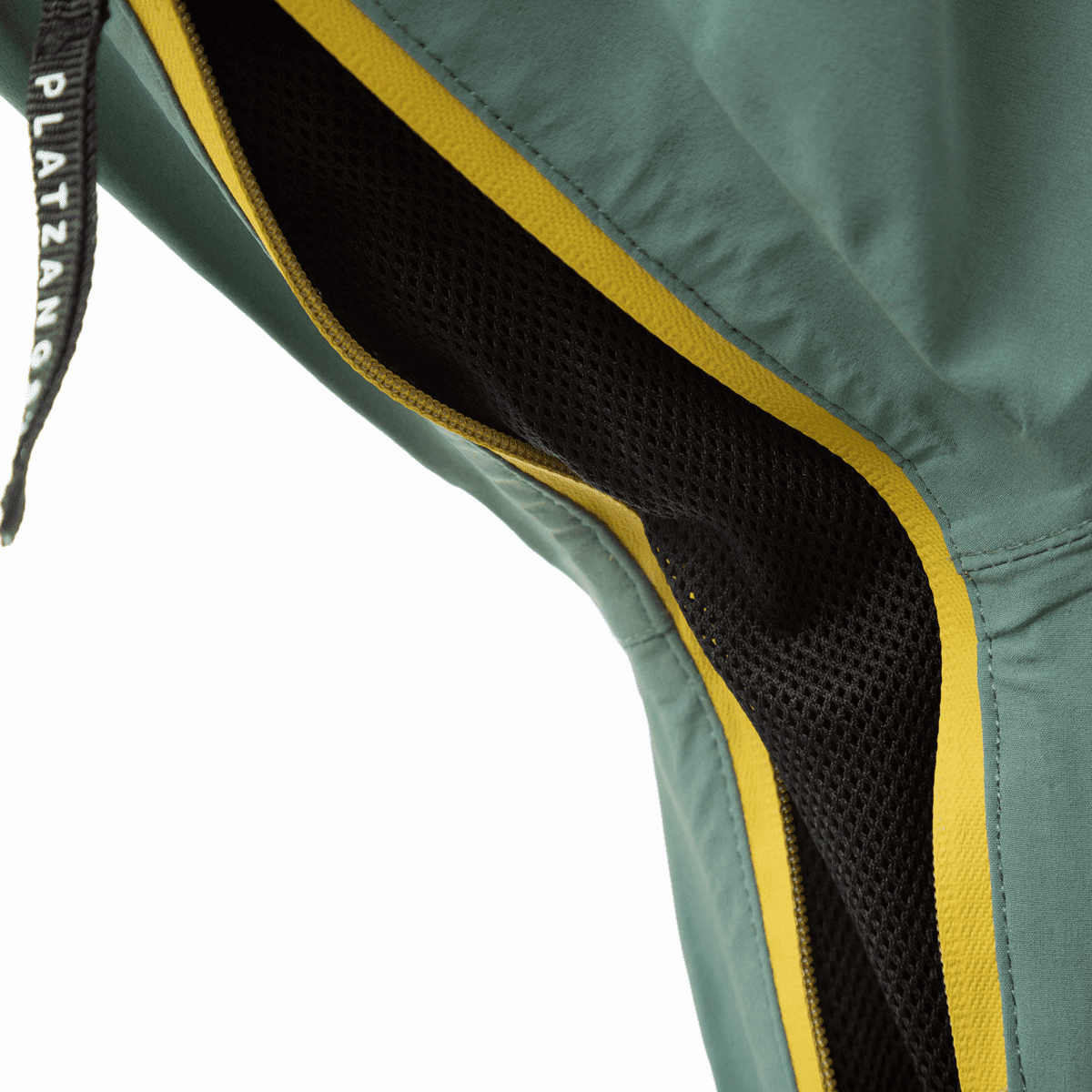 When it comes to mountain bike clothing, the devil is in the details. Small features such as a well-placed ventilation zipper can make all the difference!
Mountain bike jackets for rainy, windy and chilly days
The requirements for mountain bike jackets or rain jackets are particularly tough. They have to offer you wind and rain protection and at the same time they should not become too sweaty – breathability is a very important issue. Due to their great functionality, our Platzangst jackets are the perfect gear for alpine cycling tours or demanding trail riding, but they are also happy to accompany you on non-biking outdoor activities. Our high-quality bike jackets benefit from good air ventilation on the inside and optimal weather protection on the outside.
Our jackets play a vital role in keeping you comfortable on your winter MTB rides, where it is recommended to buy several thin layers and wear or store them as you go. Simply layer a t-shirt, a long sleeve, one of our hoodies and a windproof bike jacket and you have a warming outfit that you can adjust piece by piece when you get warm. Of course you can simply buy a winter jacket. All things put together, Platzangst belongs to one of the best MTB clothing brands you can wear.
> Discover all Platzangst jackets
Pull up the hood of your MTB jacket and enjoy a great time in not-so-good weather!
MTB Jerseys and tops
We certainly don't have to lecture you on how t-shirts, shirts and jerseys are the basics of mountain bike clothing and how important it is to choose the right ones. If you're wearing Platzangst shirts, the style of your MTB outfit speaks for itself. If you like your shirts rather plain, you can simply put on one of our more simplistic shirts that sport only our logo print. Jerseys with a larger print are of course a little more obvious, they make it clear where you'd prefer to be right now – out on the trail, and on your MTB! Of course, all our shirts look great, they are also breathable and stretchy enough to accommodate lots of moving around.
> Click here for the cool shirts and MTB jerseys made by Platzangst.
The most important features of Platzangst mountain bike clothing:
The best way to find out how awesome all our garments look is to browse our store. But here we've got a list of the most important features that you don't see.
Platzangst MTB bike clothing features:
highly functional fabrics
robust and weatherproof outer layers
high breathability
enough freedom of movement for MTB action
clever details like ticket holders, zipper pockets, vents etc.
body-hugging yet casual fit
clear designs and colors to suit every taste
MTB clothing + MTB accessories = your individual look
Our Platzangst product range doesn't stop at providing you with excellent mountain bike clothing, we also offer you lots of MTB accessories that complete your outfit. In addition to grippy and robust MTB gloves, you will find socks that have been designed especially for more comfort when wearing mountain biking shoes. They come in different designs, and feature functional aspects such as a durable sole and a breathable upper part. Our bike bags will help you store your additional layers of clothing on a bike trip. Not to forget our stylish caps and beanies that help you cover up your helmet-hairdo, as soon as you take off your helmet. Of course they also cut a fine figure on the side of the track as well as in the ice cream parlor.
Here is our quick guide to Platzangst MTB clothing: