No results were found for the filter!
Going biking rain or shine? Pick the right MTB jacket if you want to defy rain and cold!
If you're anything like us, you probably know the problem: You won't let a little rain or frost keep you from heading out on your MTB! And you shouldn't! Just make sure, you've got the right MTB clothing – MTB jackets, pants or shirts, at hand! For years we have tried to buy specific MTB jackets that enable us to ride on even the particularly nasty days of the off-season, that will last for more than one season and also look great. Also, a biking jacket has to feel comfy rather than constrict your movements, it should be easy to clean and lightweight.
To cut a long story short: MTB jackets that tick all the boxes were impossible to find. So we got busy! And yes, the list of criteria was long! Our jackets for mountain bikers should be waterproof and windproof, offer plenty of freedom of movement, be made of sturdy material and of course look awesome. Here you can see (and buy) the results of our efforts. Learn why Platzangst mtb jackets they are so popular with bikers everywhere:
Platzangst makes MTB jackets for all kinds of weather
Many weeks of development, crumpled design drafts and fittings are behind us now and several prototypes later that magic moment had finally arrived - the very first Platzangst mtb jacket was ready to roll! We directly took it on heaps of test rides to make sure it has exactly the properties that we had been aiming for and we're glad to announce that it does and can now be ordered in the online store. Immediately after that, we set our sights on the next jacket. And then another ... Today we offer you a great selection of mens' MTB jackets at Platzangst: wind breakers, rain jackets and also warm jackets for the winter. Here are a few examples…
Always ride free - but in which MTB jacket?
At Platzangst, a jacket is not just any jacket, we design highly functional outerwear that is always focused on the demands of cyclists. Unlike a "fashion jacket", a functional outdoor jacket must not only match your personal style. It also has to do exactly what is necessary to make you feel good out there. After all, you don't want to carry around unnecessary baggage; much rather, you want to have the perfect jacket in your panniers for the weather conditions you'll encounter on the trail.
Here's what you can expect from a PLATZANGST jackets for MTB:
waterproof material with a high water column up to 10,000 mm
sealed seams
windproof and warming
or really warm
breathability up to 10.000 g/m²
ventilation openings
perfect cut for cycling
practical pockets
glove-friendly zippers
many color choices
available in sizes from XS to XXL
robust and tear-resistant
lightweight material
pocket friendly pack size
clever details like ticket holders, various pockets and detachable hoods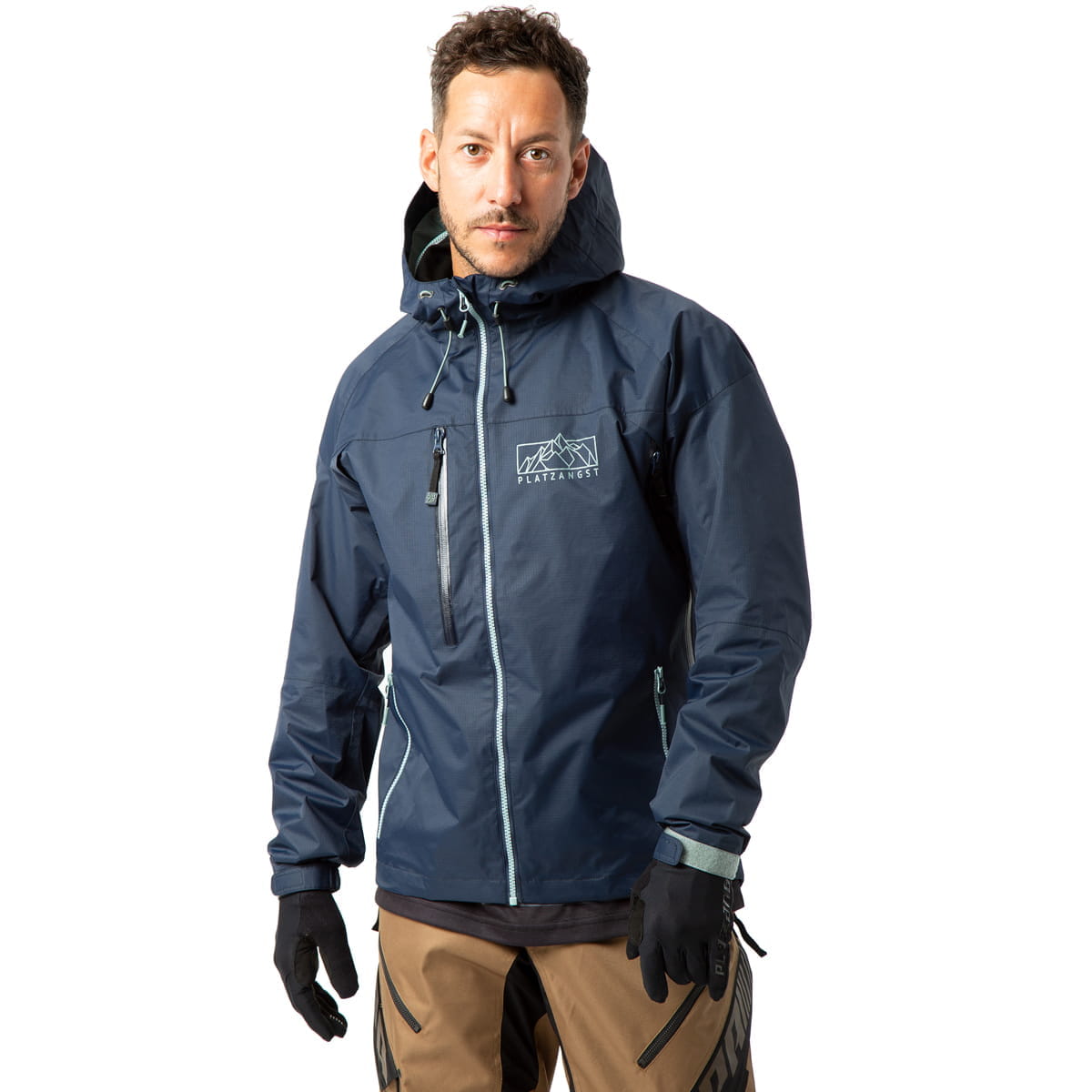 Platzangst MTB jackets will be with you, even if you're up to no good!
Platzangst MTB jackets for rainy weather
Mountain biking is an outdoor sport, as you're certainly aware of. And you probably already knew that you should always have a rain jacket with you out there. But did you know what makes a jacket a mtb jacket? Because jackets for mountain bikers have a specific cut that adapts well to the riding posture. In addition, an MTB jacket leaves you enough room to move in all directions and thus react to technically challenging terrain.
To make this work, we select waterproof fabrics (with at least 10,000 mm water column) that are also stretchy. We develop patterns that are adapted to the riding posture and movements on the MTB. Also the equipment of the rain jackets, such as vents, zippers, ticketholders or pockets are made specifically for bikers. At the same time, however, our jackets remain very lightweight and they also look great with the rest of your biking outfit.
If you want to stay dry you have two options: There are PLATZANGST softshell jackets for rainy weather and also hardshell jackets. Which one you prefer is purely a matter of taste. In general, softshell is softer, slightly warming and also somewhat stretchy, while a hardshell jacket is robust and it can always be re-proofed.
In our PLATZANGST hardshell jacket, we only use high-quality materials that protect you from wind and rain. It is unlined and therefore perfectly suitable for warm but wet weather in summer. The outer material is waterproof and windproof, it offers you good rain protection with a water column of up to 10,000 mm. Jacket that is waterproof on the outside and airy on the inside is what we wanted, and so this rain jacket offers at the same time a high breathability of 10,000 g/m² and a few vents.
The fabric is very tear-resistant, so your MTB jacket protects your skin should you fall. You'll also discover clever details such as ticketholders, zipper pockets and taped seams all over this (and any other) functional jacket. By the way, a hardshell jacket is not only practical in summer, with a warm hoodie underneath and a vest on top you've got a perfect combo for cold winter days.
Our softshell jackets, on the other hand, are particularly comfortable to wear. The fabric is soft and stretchy, these properties provide a great wearing comfort. Here, too, the material is waterproof and the seams are sealed with tape, at the same time these jackets are particularly lightweight. A MTB softshell jacket can keep you dry and warm, which means it is the perfect choice for putting on layers on mild winter days and the period between summer and winter.
And remember: It won't do much good if that rainwater stays outside of your jacket, only to seep into your pants. That's why you should wear waterproof MTB pants on rainy days. But clothing can be even more waterproof than that! Check out our rain suits, this seamless onesie rain wear is perfect for those who do not want to separate cycling from water sports!
Going downhill in a hurry? Then you'll need a lightweight windbreaker!
If you have a rain jacket, do you need a windproof jacket as well? A good question. Since a windproof jacket does not have to be 100% waterproof, we can use particularly lightweight material, that is the most obvious difference. Wind jackets are therefore lightweight and they can be tucked into small spaces, usually a small frame bag is enough.
So do you really need a windbreaker? If you're riding in cloudy, cool or uncertain weather, a rain jacket is more versatile and therefore the more practical choice. However, there are two kinds of mountain biking that require a wind jacket. If you rely on the lift to take you uphill, you risk catching a nasty cold from the chilly wind during the way up. And if you get your kicks from riding downhill at full speed, that cooling airstream can turn into a problem as well. If you can just pull out and put on a windbreaker, you don't have to worry about shivering in the wind chill!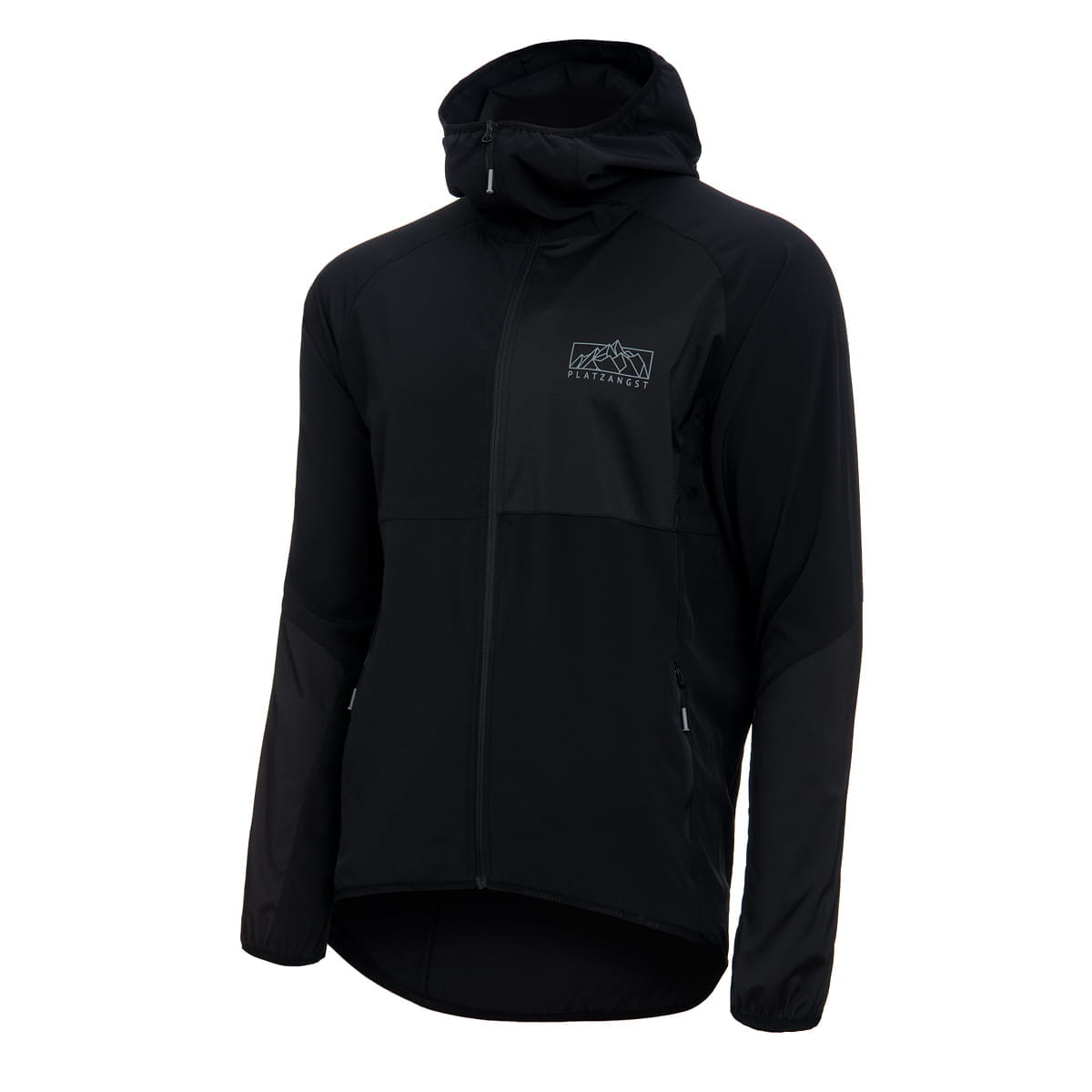 Lightweight and windproof... a windbreaker is a good thing to have when you go downhill on your MTB!
Warm MTB winter jackets
Keeping mountain bikers warm on the bike in winter is quite a challenge! Our small but fine selection of MTB winter jackets shows you, however, how well we manage to do just that!
Since the windchill makes already frosty temperatures even more uncomfortable we make sure our winter jackets are windproof. Breathable fabrics and vents allow you to regulate the warmth inside the jacket individually.
Since winter weather around here is often not only cold, but also wet, we make sure to use waterproof materials and seal the seams of our jackets for comfy winter cycling. But there's one thing that we are especially proud of, and that's the cool look of our winter jackets. You can simply wear them all the time, and not only on the bike.
How do Platzangst MTB jackets for men fit?
When you order mtb gear online, you'll certainly want to know up front how it fits. We design our MTB jackets to have a "regular fit". This makes them comfortable, but not too tight.
→ If you prefer your jacket to fit snugly, you should choose a smaller size.
→ If you prefer your outfit baggy, a large size is perfect.
We make our bike jackets in many different sizes for men, you can buy them in XS and XXL and all the usual sizes in between, so they actually fit everyone. To give you a better idea of the fit, we let you know which size our model is wearing as a buying guide.
Don't be surprised – when you try on a cycling jacket for the first time, you'll discover that the fit is different from what you are used to from "everyday" jackets! The sleeves and the back are longer, this is how we adapt our garments to the riding posture and it makes a MTB jacket sooo much more comfortable in the saddle… it's really true! No more cutting into the shoulders, no lower back laid bare, and no sleeves that end just below the elbow!
Too warm? Too cold? There's no such thing, if you combine the right MTB jackets!
You ride out shivering in the morning, you start sweating at noon and in the evening your teeth are chattering again ... Every biker who likes to ride longer tours knows what we're talking about! When you set off early in the morning, it is often still cool, while at noon the temperatures might get near the 30-degree mark. Then, as you roll towards home at the end of the day, still sweating, it can get quite shady again and you'll freeze. And the whole time, you feel like there's something wrong with your clothes! Don't worry, we've got a solution for you: If on the MTB you get too hot very quickly in your (winter) jacket, but without a jacket it is much too cold, you should pack two to three thin jackets and sweaters instead of one thick winter jacket. That way you can layer a hoodie, a light jacket and a thin waterproof jacket over your shirt or jersey and create an outfit that fits your personal need for warmth. Together, several lightweight garments are no heavier than one big jacket, nor do they take up more storage space in your bike backpack. But if you can put on an extra layer or take one off when it gets frosty or too warm, and ride in style and comfort. If you go downhill a lot, a lightweight but windproof vest will protect your chest from the biting wind.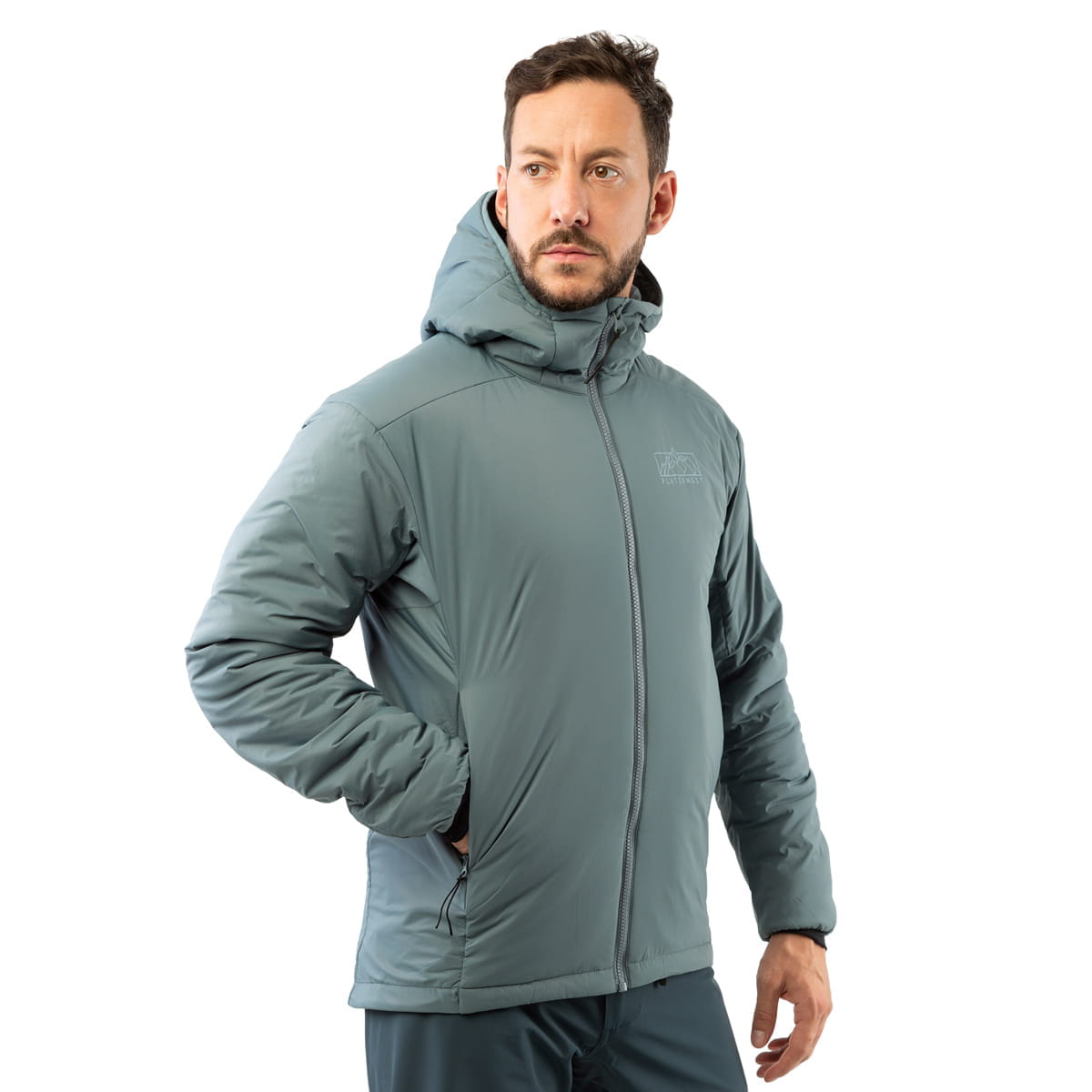 If you want to go out on your mountain bike in winter, make sure you have one of our warm winter jackets!
Can you wear Platzangst MTB jackets in the city?
Are you searching for the one jacket that can do it all, cycling, going to work, free time or other outdoor activities. Like every Platzangst garment, our mtb jackets benefit from our experience on the trail and they are functional clothing that meets all the requirements that athletes demand of their clothing. Therefore, our jackets also cut a fine figure when hiking, running or gravel biking, by the way. However, their look has been developed with the style of urban wearers in mind. Shape and color options go well with jeans, chinos or even a business outfit. Features like a detachable hood or extra-deep pockets make PLATZANGST jackets super practical, no matter where you wear them. And don't forget to add some accessories!