No results were found for the filter!
A gravel jersey is the perfect outfit for training, bikepacking or cycling trips!
Riding a gravel bike can be many things. Time off, exercise, vacation, fun. But above all, graveling is one thing: A great adventure. A gravel bike can go anywhere, it is made for leaving the beaten track. But you can trust us on this one – when you head out on your gravel bike, you don't want to be stuck in an uncomfortable jersey! First and foremost, this means that your jersey needs to have the right shape, because your clothing should be tailored to fit your riding posture. Of course your nose won't get quite as close to a gravel bike's handlebar, as it would, for example, get to a road bike's, nevertheless the form of bicycle clothing must fulfill certain conditions. First of all, you need enough space to stretch your arms to the handlebars, and if the back of your shirt is long enough too, the chances for a comfortable ride are very good.
How do Platzangst gravel jerseys fit?
Our gravel jerseys have a normal fit, they are not too tight, but not too loose either. If you buy your usual dress size, your jersey will fit close to your body. If you order a larger size, it will be a little more casual. That way, you can also choose whether you want to buy a jersey as a slim fit base layer or if you order a garment to wear as a top layer instead of a jacket.
But there is another way to buy a jersey that has the perfect fit. We make gravel jerseys in a variety of shapes. Some of our jerseys are quite tight, so even road cyclists like to wear them. In this case, a particularly stretchy fabric gives you enough room to move.
Road or gravel jersey? This jersey works great for both bike disciplines!
If you like to have a little more space around you, you can also buy one of our wider cut gravel jerseys. Not only do these jerseys make a more casual outfit, they're also a good substitute for a lightweight cycling jacket because you can wear them over a tighter shirt. Platzangst mountain bike jerseys are even more roomy, these shirts are a great choice for gravel bikers as well.
Do you prefer a more casual style? Platzangst will provide you with wider cut gravel jerseys too.
Long-sleeved or short-sleeved jersey?
Do you need a warm jersey or do you prefer a shirt that is as light and airy as possible? Do you want long or short sleeves? Windproof perhaps? Or rather breathable?
Here are some of the features of our gravel jerseys:
We have Gravel jerseys with long sleeves but we also make some shirts with short sleeves. For summer cycling, of course, you need short sleeves. But when it gets cooler, your arms are always exposed to cold air, because they are always the first to get hit by the wind. That's why it's good to have a lightweight jersey with long sleeves at hand. Arm warmers would be a good alternative, by the way.
But it's not just the sleeves that determine how warm or cool an outfit feels. The fabric also gets a say in this. That's why you can buy insulating jerseys that are windproof and therefore especially comfy in fall and winter if you wear them over a warming baselayer or under a thinner cycling jacket. But we also make very lightweight, well-ventilated cycling jerseys that are comfortable to wear on warm summer days.
Why you need a jersey (or three) for long gravel rides:
Even on a shorter ride on a gravel bike, a jersey is comfortable and nice to wear. But especially on multi-day tours, you'll come to love the benefits of a gravel jersey. Gravel jerseys are very lightweight, and they also pack down well. Therefore, they will not take up too much space in your panniers. But one jersey is not enough, for multi-day tours you'll need three.
Wear one during the day, in the evening you can rinse it. While it dries you wear number two. The third is a backup for any unexpected rain.
Should you wear a shirt or a jersey on all your gravel bike rides?
Also an important question: Do you need a shirt or is a jersey a better choice? What is the difference anyway?
For sports and exercise - and that's what gravel biking is - you should rather go for a cycling jersey. A jersey is tailored perfectly in shape and choice of material to the requirements of a certain sport. This is important particularly for cyclists … seated position, remember?!
The fabric of a jersey is very stretchy. That's why a jersey can be cut body hugging, and will not flutter even at top speed. Nevertheless, the stretch makes it easy to put it on and take it off. Maybe even more important: it adapts to your movements.
You can also buy and wear cycling shirts, and they are great for shorter tours. They are usually cut more roomy, much like a t-shirt. A shirt's fabric contains mainly natural fibers, which feels particularly comfortable. But these fabrics remain moist for a long time, also they are rather heavy. So a shirt may be perfect for small gravel excursions or busy days where you ride your bike to the office, the supermarket, a restaurant and on a little after work ride. But for longer tours it's not quite right.
The perfect gravel jersey is not too tight and not too wide.
A bike jersey for sweaty gravel tours
A jersey is made of artificial fibers like polyester or spandex that do not absorb moisture. That's why a jersey will always feel dry.
But the fact that the fibers of a jersey do not absorb moisture has another advantage. We're not talking about moisture from the outside in this case, like rain or drizzle, but moisture that is generated inside the jersey - sweat. Fibers that do not absorb moisture will not accumulate unpleasant odors that will even survive laundry. You will find even more effective odor protection from shirts that are made of antibacterial fibers that actively prevent odors.
But your shirt doesn't only get wet, it also has to dry. Especially if you're out bikepacking, you'll be on the road for several days at a time, and then you may need to wash your gravel jersey after a long day in the saddle and wear it again. Synthetic fibers do not absorb water, that means they will dry in no time.
Since it is obvious that jerseys and shirts for athletes and cyclists need to be washed frequently, they are made to live through many washing cycles without losing their shape or colors fading.
What should you look for when buying a Gravel jersey?
It's the small stuff that distinguishes any ol' jersey from a good jersey. That's why you shouldn't just judge by looks when you buy one. Often you can choose whether you need certain features or not, because there are jerseys with and without a hood, pockets or a zipper.
Would you like a hood or collar on your gravel jersey?
Do you want to keep your ears warm under a hood or would it just bulk up around your neck and bother you? This depends on your personal preferences and also on your other equipment. If you wear a scarf, a hood tends to get in the way. If you don't want to wear a cap in the winter, it can be handy to have a hood instead. Our gravel jerseys have several solutions to offer. You can order normal crew necks, small stand-up collars or close-fitting necklines that keep the wind out. Or just a jersey with a hood. You choose.
If you always carry a bike bag, maybe you don't need pockets on your cycling jersey? If you want to carry a backpack, jersey pockets can even be really uncomfortable once you mount your gravel bike. You might feel the edge of the pockets because the backpack is sitting right on top of it. There are bike jerseys with the classic back pockets or without, you can choose what you need.
The neckline of your gravel jersey is really important!
When you sit on your bike, you bend forward. A too wide collar can become really uncomfortable then. Your jersey might droop and let in the cold air, or the airstream might blow it up, both scenarios would be extremely uncomfortable. Our jerseys' necklines close with a zipper, zip it up to keep the wind out. But you can also open the zipper, and get a lot of fresh air.
Gravel jerseys and cycling clothes by Platzangst
Finally, let's clarify an important question: What goes best with your gravel jerseys? A helmet on top, of course, but what else do you wear?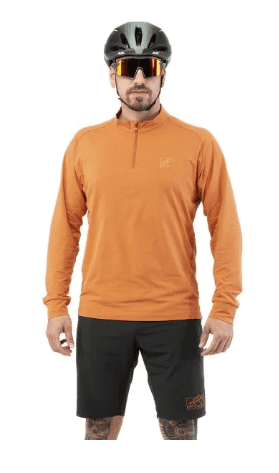 A complete gravel outfit is not only cool, it's comfortable and functional.

At Platzangst you can find cycling clothes for men in all sizes from XS to XXL. And ssshhhhh... just between us... a good pair of gravel pants might be even more important than a jersey, because when you sit in the saddle for hours, the wrong pants will be no fun at all! We will outfit you with long trousers or cycling shorts (and bibs), you can also order jackets, socks or bike caps. Head over to the mountain bike section of our online store for rainwear, and you're good to set off directly on new gravel adventures.